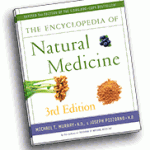 The Encyclopedia of Natural Medicine just underwent its first revision in 15 years. In this broadcast of Five to Thrive Live, coauthor Michael Murray, ND, describes what surprised him most when updating the book and explains why curcumin, proteolytic enzymes and beta glucans are among his top favorite nutrients. Dr. Murray also provides some practical dietary and lifestyle advice for those wishing to gain optimum health.
[audio:https://doctormurray.com/wp-content/uploads/2012/08/FiveToThriveLive-8-2-2012.mp3]

Dr. Murray is interviewed by: Karolyn A. Gazella. Karolyn is the publisher of Wellness Times. She is also the publisher of Natural Medicine Journal, a peer-reviewed e-journal for healthcare professionals and open access website. Karolyn has been publishing wellness information for nearly 20 years and is the author or coauthor of several books including her latest book with Dr. Lise Alschuler, Five to Thrive: Your Cutting-Edge Cancer Prevention Plan (Active Interest Media, 2011). She is also the co-host of the Five to Thrive Live! radio show featured on The Cancer Support Network. For more information, visit FivetoThrivePlan.com.