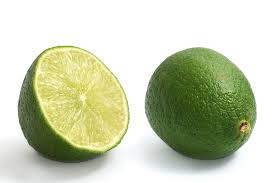 Limes are a popular citrus fruit that can be either sour or sweet, depending on the variety. Originating in South-east Asia, limes were carried by Arab traders into Egypt and North Africa in the tenth century. From there, the Moors later took them to Spain during the thirteenth century. With the onslaught of the Crusades, the lime's journey expanded, and was carried to southern Europe and later to the Americas by Christopher Columbus. British explorers to the West Indies discovered the lime's ability to ward off scurvy. In the sixteenth century, West Indies limes were introduced to the Florida Keys by the Spanish, and are now referred to as the Key lime. As limes are especially susceptible to frost, they are primarily grown in Florida, Mexico and Brazil.
Nutritional Highlights:
Limes are very similar to lemons in their nutritional values.
They are an excellent source of vitamins C, and B6, potassium, folic acid, flavonoids and the photochemical limonene.
Health Benefits:
Limes contain several phytochemicals that are high in antioxidants and anticancer properties.
Research has shown limes can help boost the activity of cells causing them to divide or die, and can increase the count of white blood cells.
Limes have an antibiotic effect, shown during the cholera epidemic as the inclusion of limejuice in the diet could prevent the illnesses development.
Use limes in place of almost any dish that calls for lemons. For a simple application, squeeze limejuice onto quartered avocados for a snack. Or, combine fresh-squeezed limejuice with sugarcane juice and either plain or sparkling water for refreshing limeade. For more lime recipes, pick up a copy of my "Encyclopedia of Healing Foods".