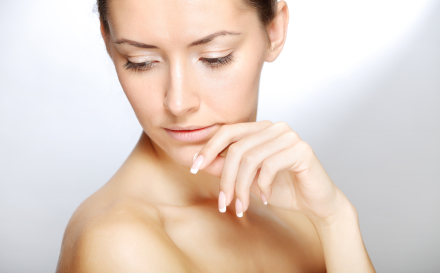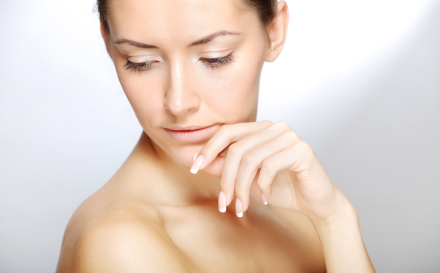 Radiant, vibrant, and healthy looking hair, skin, and nails have long been associated with good health. While most people try and improve the appearance of these tissues from the outside alone, the real key to healthy skin, beautiful hair, and strong nails is building them from the inside out through good nutrition and key dietary supplements.
Skin, hair, and nails are derived from dynamic, living tissue. And, like all living tissue they need proper nourishment. Since hair and nails are derived from skin cells, the nutrients required for healthy skin are the same nutrients required for healthy hair and nails. In an effort to provide exceptional nutritional support for these tissues, I have developed Hair, Skin, and Nails for Natural Factors. I recommend two capsules twice daily for maximum benefit.
This recommendation will provide the following nutrients per 4 vegetarian capsules:
Vitamins:
Vitamin C (ascorbic acid) ……………………………………………………………………………………………120 mg
Pantothenic Acid (as calcium pantothenate) ……………………………………………………………………..50 mg
Niacin (as niacinamide) …………………………………………………………………………………………………20 mg
Vitamin E (as d-alpha tocopheryl acetate) ……………………………………………………………………….. 30 IU
Vitamin B2 (riboflavin) ………………………………………………………………………………………………….5 mg
Vitamin B6 (as pyridoxine HCl) ………………………………………………………………………………………3 mg
Thiamin (as thiamin HCl) ……………………………………………………………………………………………2.5 mg
Biotin ………………………………………………………………………………………………………………… 2500 mcg
Vitamin A (as beta carotene) ……………………………………………………………………………………… 2500 IU
Folate ……………………………………………………………………………………………………………………. 400 mcg
Vitamin B12 (as cyanocobalamin) ……………………………………………………………………………… 100 mcg
Minerals:
Calcium (as tricalcium phosphate) ………………………………………………………………………………..130 mg
Magnesium (as magnesium aspartate) ……………………………………………………………………………100 mg
Zinc (as zinc citrate) ……………………………………………………………………………………………………..15 mg
Silicon (bamboo stem & leaf extract) ………………………………………………………………………………10 mg
Boron (as sodium tetraborate decahydrate) ………………………………………………………………………..1 mg
Other Ingredients:
Opextan® Olive Extract (Olea europaea) powdered extract (fruit) (10% total polyphenols) …….160 mg
MSM (Methylsulfonylmethane) ……………………………………………………………………………………150 mg
L-Cysteine (as l-cysteine HCl, monohydrate) ………………………………………………………………….150 mg
L- Methionine ……………………………………………………………………………………………………………150 mg
Horsetail (Equisetum arvense) powdered extract 6:1 (aerial) ……………………………………………….120 mg
Hyaluronsan HA-LF Hyaluronic Acid (fermented, highly purified) ……………………………………120 mg
Green Tea (Camellia sinensis) powdered extract (leaf) (45% Epigallocatechin gallate [EGCG]) …….100 mg
What about diet?
Yes, diet is extremely important to hair, skin, and nail health. I think the best diet for healthy skin, hair, and nails is following the "Mediterranean Diet." This term has a specific meaning, it does not mean to simply eat more Italian food. The Mediterranean diet reflects food patterns in the early 1960s typical of Crete, parts of the rest of Greece, and southern Italy. The traditional Mediterranean diet has shown tremendous benefit against heart disease and cancer, as well as diabetes. It has the following characteristics:
It centers on an abundance of plant food, including fruit, vegetables, breads, pasta, potatoes, beans, nuts, and seeds.
Foods are minimally processed and there is a focus on seasonally fresh and locally grown foods.
Fresh fruit is the typical daily dessert, with sweets containing concentrated sugars or honey consumed a few times per week at the most.
Dairy products, principally cheese and yogurt, are consumed daily in low to moderate amounts and in low fat varieties.
Fish is consumed on a regular basis.
Poultry and eggs are consumed in moderate amounts, about 1 to 4 times weekly, or not at all.
Red meat is consumed in small, infrequent amounts.
Olive oil is the principal source of fat.
Wine is consumed in low to moderate amounts, normally with meals.
The two components of the Mediterranean diet that have received a lot of attention is red wine and olive oil. In terms of skin health, a particularly important component of the Mediterranean diet is the olive itself. Population based studies have shown a negative correlation between the consumption of olives and wrinkle formation.1
In other words, a higher intake of olives is associated with fewer wrinkles. One of the key components of my Hair, Skin, and Nails formula is a special extract of olive fruit known as Opextan.® Most olive extracts on the market are derived from olive leaf. What makes Opextan superior for skin health is that it is much higher in key compounds known to protect the skin especially verbascoside, a polyphenol molecule that is found in the fruit, but not in olive leaves. The polyphenols from olive fruit have also been shown to have good bioavailability and actually increase antioxidant defenses within the human body.2
How does Opextanprotect the skin from wrinkle formation?
First, let me answer the question – Why does skin wrinkle? The main reason skin wrinkles is the cumulative effects of free radical damage. This damage may be the result of exposure to the elements – sun, wind, and pollution all take their toll, but exposure to internal free radicals is also a major cause and so is normal aging. Over time, the amount of fat stored in layer just below the dermis tends to diminish.
Thus, there is less "bulk" material to support the skin layer, causing it to sag. As we age, the collagen in our skin loses its ability to hold its shape. The molecules that must "link arms" and form a cohesive structure lose their grip. The fibers become literally fewer and farther between. As the network of collagen shrinks, the skin becomes thinner and less elastic. The glands that secrete natural skin oils wither away, causing skin to become dry and itchy.
To prevent wrinkles from forming, obviously we need to eat a diet rich in antioxidants and avoid exposure to free radicals especially
smoking cigarettes and excessive sun exposure. Now, in regards to Opextan, its unique composition of olive fruit compounds, and in
particular, verbacoside, has shown exceptional antioxidant effects specific to the health of the skin.3
In detailed studies conducted by Japanese and Italian researchers, Opextan has been shown to effectively prevent free radical mediated degeneration of the skin that can lead to wrinkle formation as well as protect the skin from other signs of damage. It is a perfect supplement for producing an antiaging effect on the skin. The same can be said for green tea extract and its chief polyphenol, epigallocatechin gallate as it also has an ability to protect against free radical damage of the skin, particularly damage caused by ultraviolet radiation.4 But, if I had to rate the two, I would rate Opextan higher as I think there is just something about that "olive" complexion that radiates health.
What is Hyaluronsan-LF and why is it important in the health of hair, skin, and nails?
Hyaluronsan-LF is a special bioavailable form of hyaluronic acid produced by a natural bacterial fermentation process that has demonstrated impressive clinical effects in improving the health of the skin. You may be familiar with the use of hyaluronic acid injections to fill in wrinkles. Specifically, in 2003 the FDA approved Restylane (hyaluronic acid) for this purpose. It appears that Hyaluronsan-LF may actually be better than injection as it may have a longer lasting effect as well as be a more natural way to deliver this important compound to skin health. In a nutshell, hyaluronic acid is a major component of skin, where it is involved in supporting the epidermis and tissue repair. Basically, hyaluronic acid exists in between skin cells to lock them in place and help to retain moisture and elasticity.
When skin is damaged by free radicals it becomes inflamed and the cells in the dermis stop producing as much hyaluronic acid. This
leads to weakened support for the epidermis and dermis which in turn leads to wrinkle formation. The hyaluronic acid contents in the
skin also decreases with aging. Clinical studies have shown in patients with dry and rough skin that Hyaluronsan-LF has an incredible
ability to increase the moisture content of the skin resulting in a dramatic improvement in the skin's appearance.5 Hyaluronsan-LF is
pure hyaluronic acid while other supplements usually contain sodium hyaluronate – a lower quality form that is also less soluble. The
dosage used in the clinical trials was 120 mg daily.
What are some of the other key nutrients for health skin?
Skin, hair, and nails are vibrant, dynamic tissue. The skin is composed of several layers. The outermost portion is the epidermis (dermmeans skin), and it serves as the body's main protective shield. Below that is the dermis, a thicker layer where most of the business of supporting and nourishing the epidermis occurs. Below the dermis is the subcutaneous tissue, which contains larger blood vessels and fat cells.
Here is something to really think about, you grow a new epidermis every five to seven weeks. New skin cells are born in the deepest
level of the epidermis and migrate upward. By the time they reach the surface they are no longer living. Each day you shed millions of
these dead cells through washing or abrasion. As you slough them off, new cells rise to take their place.
One of the reasons that the health of our cells is so closely tied to our overall nutritional status is because of this high rate of cellular
turnover. Obviously, a deficiency of an essential nutrient, whether it is a vitamin, mineral, fatty acid, or protein can result in impaired manufacture of healthy new skin cells. A healthy diet is important, but so too is proper supplementation. In addition to my Hair, Skin, and Nails formula, I recommend taking a high potency multiple vitamin and mineral formula like my MultiStartTM line and a true pharmaceutical grade fish oil like my RxOmega-3 FactorsTM to insure the full balance of key nutrients for good health.
The Hair, Skin, and Nails formula provides additional nutritional support for healthy hair, skin, and nails. For example, the vitamins and minerals in the formula function as components of enzymes – molecules that give us life by either making or breaking down other molecules – or act as structural components in the skin, hair, and nails. In particular, zinc is extremely important in skin cell manufacture and wound healing. A key sign of low zinc is the presence of white lines on the fingernails, indicating poor wound healing of the nail bed even after the least trauma.
Why does the formula have so much sulfur?
Sulfur is an important element for all cells and body tissues. It is especially important nutrient for the skin, hair, and nails because it acts to stabilize the support structures of these tissues like collagen and other components of the connective tissue matrix. MSM (methylsulfonylmethane) is a major form of sulfur in the human body and the sulfur-containing amino acids methionine and cysteine also play valuable roles. For example, about a quarter of your collagen is made of cysteine (cysteine contains atoms of sulfur) which forms especially sticky bonds with other neighboring proteins.
The strength and water-binding potential of collagen is important in supporting the epidermis and dermis in ways that help keep your skin supple and smooth. Cysteine, methionine, and MSM are also important in preventing brittle or weak nails. Note, a lot of people say "I am allergic to sulfur." That is impossible, you can't be allergic to sulfur it is as critical to our lives as oxygen, iron, calcium, or any other element. What people are allergic to are sulfur containing drugs and/or food additives.
What is in the formula that specifically supports healthy nails?
Your fingernails and toenails are part of your epidermis, so the same nutrients that are important to skin health apply to nails as well. In particular, human nails are largely composed of minerals and proteins. The primary protein in our nails is keratin. Key nutrients for keratin manufacture include not only specific amino acids like cysteine and methionine, but vitamin C, zinc, and B vitamins as well.
When there is adequate protein, but insufficient minerals like calcium, magnesium, silica, boron, and zinc, the nails are very weak, thin, and extremely flexible. 6 One of the absolute key nutrients for strong nails is biotin. As early as 1940, researchers knew about an association between deficiency of B-complex vitamins and nail brittleness. More recent research, especially from the world of veterinary medicine, has focused on the role of biotin, a member of the B vitamin complex, in this common disorder. Biotin has not only been shown to increase the strength and hardness of hooves in pigs and horses, recent human studies have shown that biotin supplementation (2500 mcg per day) can produce a twenty-five percent increase in the thickness of the nail plate in patients diagnosed
with brittle nails of unknown cause.6 Silicon at a dosage of 10 mg per day has also been shown to be very effective in strengthening
brittle nails.
What about healthy hair?
To fully appreciate the importance of nutrition in hair health, we must first look at how hair grows. Each hair shaft begins from an enclosed area of skin known as the "hair follicle." At the base of the hair root is the "hair bulb." The hair bulb is where hair growth occurs. Hair grows by the addition of skin cells which then change shape. In other words, hair is made of transformed skin cells. In order for healthy hair to grow, the hair bulb must have a constant supply of vital nutrients. Obviously the better the nutrition; the stronger and healthier the hair you will have.
The hair root is held in place by a sheath of tissue known as the root sheath. The ability to hold the hair in the follicle is dependent upon
the strength of this sheath. Again, nutrition plays a major factor in holding hair in place. The hair shaft itself is composed of an outer
layer known as the "cuticle," an inner layer known as the "medulla," and a layer in between known as the "cortex." Although all parts of the hair need to be healthy for healthy looking hair, it is the cuticle, the outer layer of the hair shaft, that we see. The cuticle is also the part of hair which suffers the most abuse. The cuticle is produced by the hair bulb. Initially the cuticle is a square shaped cell, but as hair grows these cells eventually flatten out and harden to form shingles which cover the hair shaft. For healthy looking hair, the cuticle must remain flat. If the cuticle is not strong enough it can fray, be damaged, or even become detached from the shaft. This results in dry, lifeless, and damaged looking hair.
What determines the strength of the hair cuticle – nutrition. Again, since hair is derived from skin cells, the nutrients required for healthy skin are the same nutrients required for healthy hair. In particular, although all of the B vitamins are important to healthy hair, biotin is especially important. Biotin deficiency is characterized by hair loss, change in hair color, and damaged skin. Biotin has been shown to be extremely effective in treating a medical condition known as uncombable hair syndrome. This syndrome is characterized by unruly, dry, blond hair with a tangled appearance as well as brittle nails. Biotin supplementation produces significant improvements in this disorder.7
Final Comment
Remember, hair, skin, and nails are derived from vibrant, dynamic living tissue. And, like all living tissue their health is ultimately determined by the quality of nutrition that it is supplied with. I developed the Hair, Skin, and Nails formula to provide these tissues with
the additional, special nutritional support that it deserves.
References
1. Purba MB, Kouris Blazos A, Wattanapenpaiboon N, et al. "Skin wrinkling: can food make a difference?" J Am Coll Nutr, 2001;20:71-80.
2. Kountouri AM, Mylona A, Kaliora AC, Andrikopoulos NK. "Bioavailability of the phenolic compounds of the fruits (drupes) of Olea europaea (olives): impact on plasma antioxidant status in humans." Phytomedicine, 2007;14(10):659-67.
3. Aldini G, Piccoli A, Beretta G, Morazzoni P, Riva A, Marinello C, Maffei Facino R. "Antioxidant activity of polyphenols from solid olive residues of c.v. Coratina." Fitoterapia, 2006;77(2):121-8.
4. Yusuf N, Irby C, Katiyar SK, Elmets CA. "Photoprotective effects of green tea polyphenols." Photodermatol Photoimmunol Photomed, 2007 Feb;23(1):48-56.
5. Sato T, Sakamoto W, Odanaka W, Yoshida K, Urushibata O. "Clinical effects of hyaluronic acid diet for dry and rough skin." Aesthetic Dermatol, 2002;12:109-20.
6. Scheinfeld N, Dahdah MJ, Scher R. "Vitamins and minerals: their role in nail health and disease." J Drugs Dermatol, 2007;6(8):782-7.
7. Boccaletti V, Zendri E, Giordano G, Gnetti L, De Panfilis G. "Familial uncombable hair syndrome: Ultrastructural hair study and response to biotin." Pediatr Dermatol, 2007;24:E14-E1