Sweet potato pie, casserole and other dishes, are frequently served at Thanksgiving dinner.
A favorit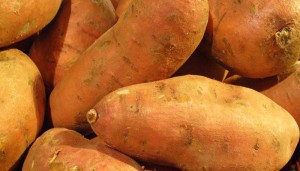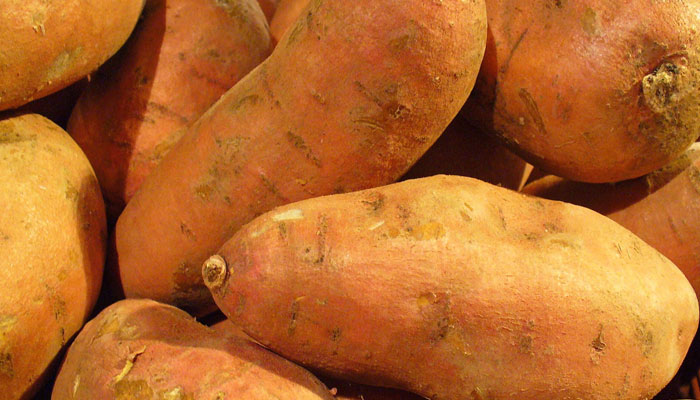 e of many, the sweet potato is not a member of the potato family. It is actually considered a Convolvulaceae, or morning glory family. Sweet potatoes are a native to Central America and have been consumed since prehistoric times, making them one of the oldest known vegetables. Christopher Columbus is the first noted to have brought the sweet potato back to Europe. Later Spanish and Portuguese explorers further spread the sweet potato by carrying it back to Africa, India, Indonesia and southern Asia. Southeastern settlers in the United States began cultivating sweet potatoes, making them a staple in southern cuisine.
Nutritional Highlights:
Sweet potatoes are an excellent source of carotenes with the darker the variety, the higher concentration of carotenes.
They are also a good source of vitamins C, B2 and B6, manganese, copper, biotin, pantothenic acid, and dietary fiber.
A 3½-ounce serving of sweet potato is only 90 calories.
Health Benefits:
Sweet potatoes contain unique root storage proteins, which are shown to exert significant antioxidant effects.
Studies have shown that the proteins found in sweet potatoes contain about one-third the antioxidant activity of glutathione which is essential to the body.
Unlike many other starchy vegetables, sweet potatoes are considered an "antidiabetic" food as they help stabilize blood sugar levels.
In the United States, the orange-fleshed sweet potato is referred to as a yam, distinguishing it from the white-fleshed sweet potato – despite the fact that true yams are native to Africa and are distinct in flavor. The sweet potato can be prepared in almost any way a potato can be prepared, from mashed to roasted. Sweet potato chips, made by baking thin slices in the oven, are a tasty and healthy snack. For a delicious dessert, try cooking purred sweet potatoes with bananas, maple syrup cinnamon and walnuts. For more information on sweet potatoes and other favorite holiday foods, pick up a copy of my "Encyclopedia of Healing Foods".