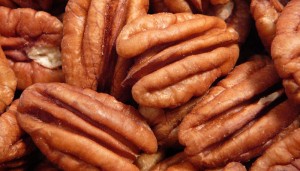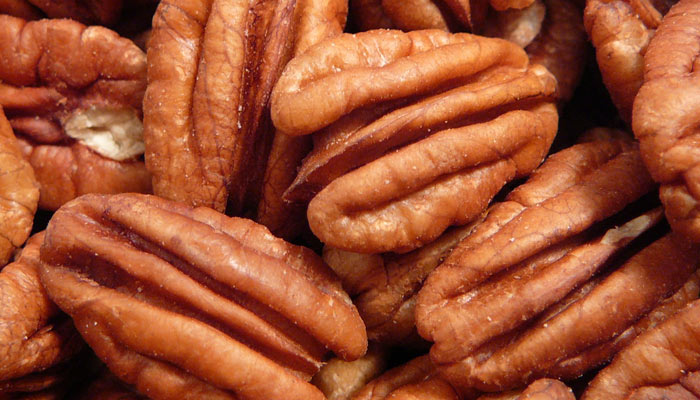 North American native to the Mississippi River valley, the pecan grows on a type of hickory tree that grows to a height of about 150 feet. Each tree produces about 200 pounds of the nut each year, and is harvested in the autumn. Archaeological evidence has revealed that pecans played a major role in the diets of prehistoric American Indians. The first record of this nut was made in the dietary of a Spanish explorer who was shipwrecked on Galveston Island in the 1540's. A French explorer is credited for first using the word pecan in 1504, and it is also the French that are thought to have made the first pecan pie. Pecan trees were present in George Washington's personal gardens, as in many community gardens. By 1802, pecans were being exported by the French and Spanish, creating a major industry for American colonists.
Nutritional Highlights:
Pecans have a high fat content, with 71% in the form of heart-healthy monounsaturated oleic acid.
Pecans contain high levels of plant sterols, which are shown to have cholesterol-lowering effects.
90% of the plant sterols that come from pecans is in the form of beta-sitosterol, which can help lower LDL cholesterol.
Pecans are also an excellent source of vitamins B1, B3, B6, B5, and E.
They also contain manganese, copper, molybdenum, zinc, magnesium, iron, potassium, selenium, and calcium.
A 1/3-cup serving of pecans contain 240 calories.
Health Benefits:
Studies have shown pecans to help lower LDL cholesterol due to their high concentration of monounsaturated fat and beta-sitosterol
Another study suggests that adding a handful of pecans to a low-fat, cholesterol lowering diet can help boost the diet's effectiveness.
Pecan-enriched diets also help to lower blood triglyceride levels, helping individuals maintain desirable levels of HDL cholesterol.
Although high in fat, pecans are shown to not affect individual's weight when eaten.
Although pecan pie is a personal favorite, try adding pecans to other baked goods such as banana bread, muffins, corn bread and pancakes. A great way to incorporate pecans into your regular diet is to add chopped pecans, smoked tofu, grated asiago or parmesan cheese to spinach for an tasty salad. Another yummy recipe idea is to spread goat cheese on sourdough bread and sprinkle minced rosemary or thyme on top with minced pecans. Broil in the oven until bubbly and serve with a green salad. Doesn't that sound delicious?