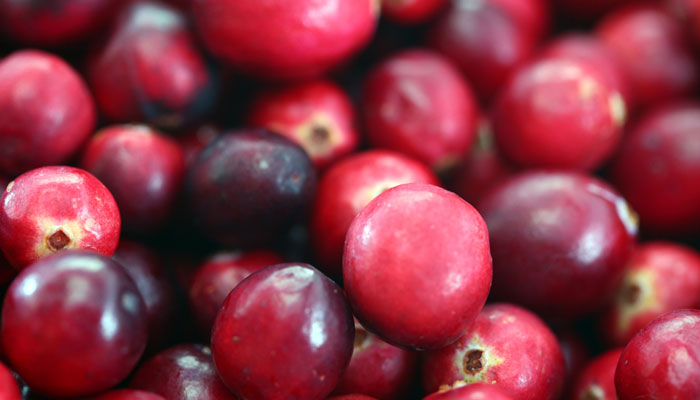 In the days leading up to the Holidays, lets focus on traditional foods served at the year's biggest meal. Cranberry sauce, weather the canned jelly or whole, has become a Thanksgiving classic that no table is complete without. Grown in the wild in North America, northern Europe, and northern Asia, cranberries are found in sandy bogs. The North American cranberry was used by Native Americans as food, medicine, and in ceremonies. The first commercial cranberry bog was planted in Massachusetts on Cape Cod in 1816. From there, it spread to Scandinavia and Great Britain. Today, over half the nation's cranberry crop is still grown in Massachusetts.
Nutritional Highlights:
Cranberries are a good source of vitamin C, soluble and insoluble fiber, manganese, and copper.
They are also rich in anthocyanidins, an antioxidant pigment.
A cup of whole raw cranberries is only 46 calories.
Health Benefits:
Cranberries are rich in proanthocyanidins, which prevent adhesion of bacteria that can cause urinary tract infections.
They are also effective at preventing kidney stones by decreasing the amount of ionized calcium in the body.
The deeper the red of the cranberry, the richer it is in the healthy pigment anthocyanin.
Fresh cranberries are have the highest level of antioxidants as processing, storing, and heating reduce the antioxidant levels in cranberries.
Although traditionally thought of as a Thanksgiving side dish, cranberries can be enjoyed year-round. Their tart flavor compliments other fruits such as pears, apples and oranges, making them a great addition to a fruit salad. Dried cranberries added to a salad is a fun way to liven up a tired dish. Also, dried cranberries can be used in place of raisins in breads, muffins and even on top of hot and cold cereal. Will cranberries be a part of your Thanksgiving meal?