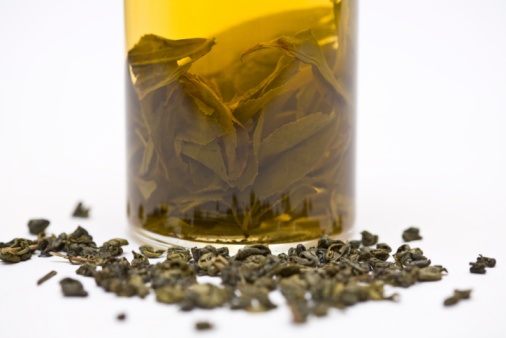 Whether you're a veteran exerciser or just starting a strength-training program, new research suggests you might want to drink some green tea or take it in supplement form.
In a study published in the November 2011 issue of Nutrition Research, scientists from the Jozef Pilsudski University of Physical Education in Warsaw, Poland, analyzed the effect of a green tea extract on men who were new to strength training, and concluded that the antioxidant-packed drink may help protect muscles from exercise-induced damage.
Thirty-five study participants did four weeks of strength training, during which they were given either a green tea extract or a placebo. The green tea extract contained 640 mg of polyphenols—the substances that give the tea its antioxidant properties.
At the end of the study, researchers collected blood samples while the men were resting, five minutes after they performed a short muscular endurance test, and 24 hours after exercising. They found that the men in the green tea group had higher blood polyphenol levels at rest and five minutes after the endurance test, while men in the placebo group had increased levels of lipid hydroxyperoxides—a marker for oxidative stress.
"It has been suggested that exercise-induced oxidative stress may be associated with muscle fatigue, muscle damage and decrease in physical performance," the researchers explained.
The antioxidants in green tea may protect against this oxidative stress and "can potentially be recommended to persons who are just beginning to train," the researchers said.