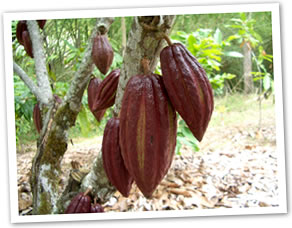 Background:
Of all the foods available on planet Earth, perhaps the most magical (and interesting) is chocolate. This delectably seemingly addictive food is produced from the beans of the cacao tree whose official name Theobroma cacao reflects the long standing love for chocolate (theobroma being the Greek word for "food of the gods"). In the United States, the average person consumes about 12 pounds of chocolate per year. That pales in comparison to the Swiss, where the average person consumes about 22 pounds of chocolate yearly. Based upon a lot of evidence, Americans might be healthier if they tried to match the Swiss intake.
Health Benefits of Chocolate:
One of the key areas of research into the benefits of chocolate consumption is its effect on cardiovascular disease.  A growing amount of recent research suggests that:
Chocolate can be a rich source of flavonoid antioxidants that are especially important in protecting against damage to cholesterol and the lining of the arteries.
Chocolate flavonoids prevent the excessive clumping together of blood platelets that can cause blood clots.
Unlike the saturated fats found in meat and dairy products, the saturated fats found in chocolate do not elevate cholesterol levels.
Frequent chocolate consumption is associated with a nearly 40% reduced risk for heart disease and a 30% reduced risk for a stroke.
Chocolate can provide significant amounts of arginine – an amino acid that is required in the production of nitric oxide.  Nitric oxide helps regulate blood flow, inflammation, and blood pressure.
New Data:
A recent study published in the Archives of Internal Medicine showed that frequent chocolate consumption was associated with lower body mass index (BMI) – a ratio of height and weight that's used to measure obesity. The authors used data from 972 patients who answered the question, "How many times a week do you consume chocolate?" Their data indicated that chocolate consumption frequency was associated with lower BMI even after adjusting for total calorie intake, exercise activity, and saturated fat intake.
These results are extremely promising. The researchers believe the benefits are once again related to the antioxidant flavonoids in chocolate. They do caution that the benefits of chocolate are only apparent with moderate consumption and that consuming large quantities of chocolate would obviously be counterproductive to losing weight.
Since dark chocolate is higher in flavonoids, it would offer the greatest health benefits. Most experts agree that the recommended "dose" of dark chocolate is approximately 30g to 60g/day (roughly 1 to 2 ounces).
NOTE: I personally recommend the Good Cacao World's Finest Superfood Chocolate Bars – they are unbelievably delicious and packed full of health benefits provided by unique superfood ingredients. Go to www.goodcacao.com for more information.
Reference:
Golomb BA, Koperski S, White HL. Association between more frequent chocolate consumption and lower body mass index. Arch Intern Med. 2012;172:519-521.