Michael Murray, N.D.
Atria Publishing (Revised 3rd Edition)
ISBN:1451663005
1232 Pages / Paperback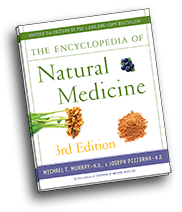 The perfect balance between the latest research and age-old wisdom, this completely revised and expanded second edition of the classic reference work arms you with the latest information on the extraordinary healing powers of natural medicine. Easy to understand, a pleasure to read, yet scientifically well researched and documented, this is your complete health adviser to the natural approach to over 70 diseases, from arthritis to varicose veins.
In addition, this life-long reference offers important information on:
The four cornerstones of good health and how to achieve them
How to enhance your body's key systems
How to promote good health and increase longevity
Clear recommendations on diet, supplements, and herbal medicines for specific health conditions.
Authoritative and up to date, the Encyclopedia of Natural Medicine is the essential medical reference no home should be without.
Buy at Amazon: The Encyclopedia of Natural Medicine 3rd Edition