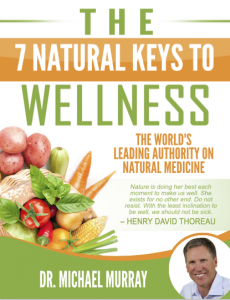 Thank you for signing up to receive a free copy of my ebook: The 7 Natural Keys to Wellness.
You can download your free copy here:
We live in a society where there is tremendous confusion about the concept of wellness and health. I am of the belief that health and wellness is much more than merely the absence of disease or illness.
I am not alone in this belief as even the World Health Organization defines health as "a state of complete physical, mental, and social well being, not merely the absence of disease or infirmity."
To achieve wellness involves a systems approach. This means that attention has to be given to all areas as every component of our life affects another.
You will also receive my weekly Natural Facts Newsletter where I provide the latest research and scientific updates in the field of natural health and medicine. My goal is to keep you informed and inspire you to live a healthier life. Be well and enjoy!