Take a look at your typical plate of food. Do you have a piece of meat and some potatoes? Or maybe pasta and a hamburger?
In other words, is your diet looking pretty…well…beige?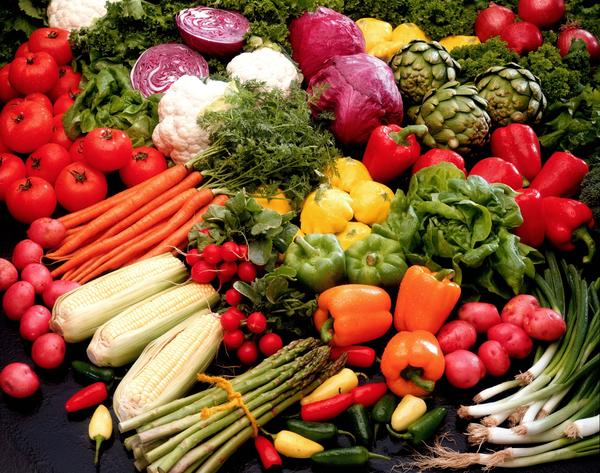 If you're eating a lot of beige food, chances are you're not getting enough fresh fruits and vegetables in your diet. Translation: You're missing out on lots of healthy fiber, minerals, vitamins, and other nutrients that fight disease.
You don't have to be a gourmet vegetarian cook to add variety, color, and nutrition to your diet. Here are some very easy tips to increase your intake of daily of fruits and veggies.
How To Make Your Diet Colorful
1. Buy variety.
Buy many kinds of fruits and vegetables when you shop, so you have plenty of choices at home. It's easy to add slices of summer tomatoes, cucumbers, and avocadoes to your plate, or to grab a carrot or apple when you're in a rush.
2. Use the freezer.
Stock up on frozen vegetables for easy cooking so that you always have a vegetable dish with your dinner.
3. Eat while fresh.
Use the fruits and veggies that go bad quickly (peaches, asparagus) first. Save hardier varieties (apples, acorn squash) or frozen goods for later in the week.
4. Keep them handy.
Keep a fruit bowl on your kitchen counter, table, or desk at work. Have washed cherries or red grapes in an open bowl in your fridge. The more often you see them, the more likely you are to eat them.
5. Fix easy grabbers.
Keep a bowl of cut-up vegetables on the top shelf of the refrigerator. You can also section oranges and keep them in a bowl covered with plastic wrap.
6. Have salad ready.
Make up a big tossed salad with several kinds of greens, cherry tomatoes, carrot, red pepper, broccoli, scallions, and sprouts–but don't add dressing. Refrigerate in a large glass bowl with an airtight lid. You'll have a delicious mixed salad to enjoy for several days.
7. Eat fruit-based desserts.
Treat yourself to a fruit sundae. Top a bowl of your favorite cut-up fruits with vanilla yogurt, shredded coconut, and a handful of nuts. For a special dessert, try a fruit parfait with low-fat yogurt or sherbet topped with lots of berries.
8. Make veggie sandwiches.
Try a vegetarian sandwich for your lunchbox. Spread hummus on one slice of bread, mash avocado on the other side, and layer tomatoes, sprouts, cucumber slices, and shredded carrots on top.
9. Steam or microwave veggies.
It's easy to microwave or steam vegetables. Broccoli, spinach, cauliflower, asparagus, sweet potatoes, beets, and squash are all quick and easy. Drizzle them with olive oil and a little salt and pepper afterwards.
10. Put fruit in omelets.
Use thinly sliced pears or apples in your next omelet.
11. Choose salad bars.
When dining out or grocery shopping, take advantage of salad bars, which offer ready-to-eat raw fruits and veggies, as well as prepared salads made with fruits and vegetables.
12. Make vegetable soup.
Using a base of sauteed onions, carrot, and celery, add water or chicken broth and throw in your favorite vegetables. Ideas include: tomatoes, fresh or canned; potatoes; green beans; zucchini; fresh greens such as Swiss chard, collards, or beet greens; corn; lima beans; cauliflower–the combinations are endless.
13. Add vegetables to sauces.
Add extra varieties of vegetables when you prepare soups, sauces, and casseroles. For example, add spinach and grated carrots and zucchinis to spaghetti sauce.
14. Drink your vegetables.
Get a high-quality juicer and make delicious fruit and vegetables juices and smoothies.
15. Freeze fresh fruit.
Freeze blueberries, strawberries, and raspberries in season. You can also freeze grapes. Frozen fruits make a great summer replacement for ice cream, popsicles, and other sugary treats.
 Keep it colorful, and you'll keep it healthy…and delicious!