Weekly Natural Facts Newsletter
Sign Up & Receive a "Free PDF Copy" of my book:
Stress, Anxiety, and Insomnia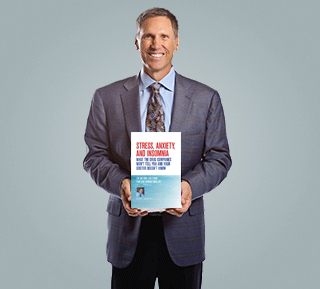 On the Dr Oz show
December is Seasonal Affective Disorder Awareness Month
In seasonal affective disorder (SAD) is associated with winter depression Typically, these individuals not only feel depressed they also feel tried, slow down, and generally oversleep, overeat, and crave carbohydrates in the winter. In the summer, these same patients feel very good and maybe even are elated, active, and energetic.
Read MoreClose
Although many variables may be responsible for SAD, insufficient light exposure is the most logical explanation. Many mammals exhibit seasonal variations in activity level, sleep patterns, and appetite and are extremely sensitive to changes in day length. The antidepressant effects of full-spectrum light therapy have been demonstrated in well-monitored, controlled studies in SAD. The antidepressant effect of light therapy is probably due to the restoration of proper melatonin synthesis and secretion by the pineal gland, leading to reestablishment of the proper circadian rhythm. Full-spectrum white light (10,000 lux) is prescribed for at least 30 minutes every day in the morning. Or, better yet, use full-spectrum lighting throughout the indoor environment.
The key hormonal change caused by exposure to full spectrum lighting may be a reduced secretion of melatonin from the pineal gland and an increased secretion of cortisol by the adrenal glands. Melatonin supplementation is thought to improve SAD because it increases brain melatonin levels, but it may also suppress cortisol secretion.Take 3-5 mg 45 minutes before retiring.
Vitamin D is also an important consideration. Many experts recommend a dosage of 2,000 to 5,000 IU of vitamin D3 daily, especially during the winter months.
For more information, please see the completely revised and updated 3rd edition of The Encyclopedia of Natural Medicine.
Weekly Health Tip
Mind Your Ps and Qs
PQQ may be the perfect answer to preventing or reversing age-related mental decline.
kiwiPQQ (short for pyrroloquinoline quinone) is a vitamin-like compound found in plant foods that shows a wide range of benefits for brain function and energy production. Learn more about PQQ with the following Q&A.
What Exactly Does PQQ Do?
PQQ is an extremely potent antioxidant that is able to carry out the role of an antioxidant in the body more than 20,000 times—which is a rare thing. For example, other antioxidants, such as vitamin C, are only able to accomplish this "cycling" process about four times.
Are There Any Food Sources of PQQ?
PQQ has been found in all plant foods analyzed to date. Particularly PPQ-rich foods include parsley, green peppers, kiwi, papaya, and tofu. These foods contain 2–3 mcg of PQQ per 100 grams. Green tea provides about the same amount per 4-oz. serving. While these amounts appear to be sufficient in helping our cells carry out their basic functions, research indicates that boosting PQQ through supplementation can produce some amazing effects.