Vitamin D Shows SUPER Impressive Results in COVID-19
Results just in from a hospital trial in Spain showed vitamin D to produce phenomenal results in preventing the progression of COVID-19.
Only 2% of those given the vitamin D were transferred to the intensive care unit (ICU) compared to over 50% of those not receiving the vitamin. The results from this study joins other evidence of the critical role this hormone-like nutrient plays in immune function.
In this newsletter, I will share more details on the benefits of vitamin D3 on immune function, but I also want to share an offer from iHerb that is simply too good to pass up: 30 days of immunity for $1!
iHerb is offering their Immune4 formula, which contains vitamin D3 along with vitamin C, zinc, and selenium, for only $1 for 60 capsules. It is a great deal.
And I urge everyone take these nutrients to support immune health. So, get it for yourself or someone you care about. It is too good of an offer to miss out on.
Background Data:
Vitamin D3 has been shown to produce a wide range of immune enhancing effects and it is now well-established that it offers important in protection against upper respiratory infections. There is also a growing body of science that show low levels of vitamin D increase the risk for more severe COVID-19 infection and death from this viral infection.
Take a look at this graph from Grassroots Health. It clearly shows that low levels of D3 are associated with an increased severity of COVID-19.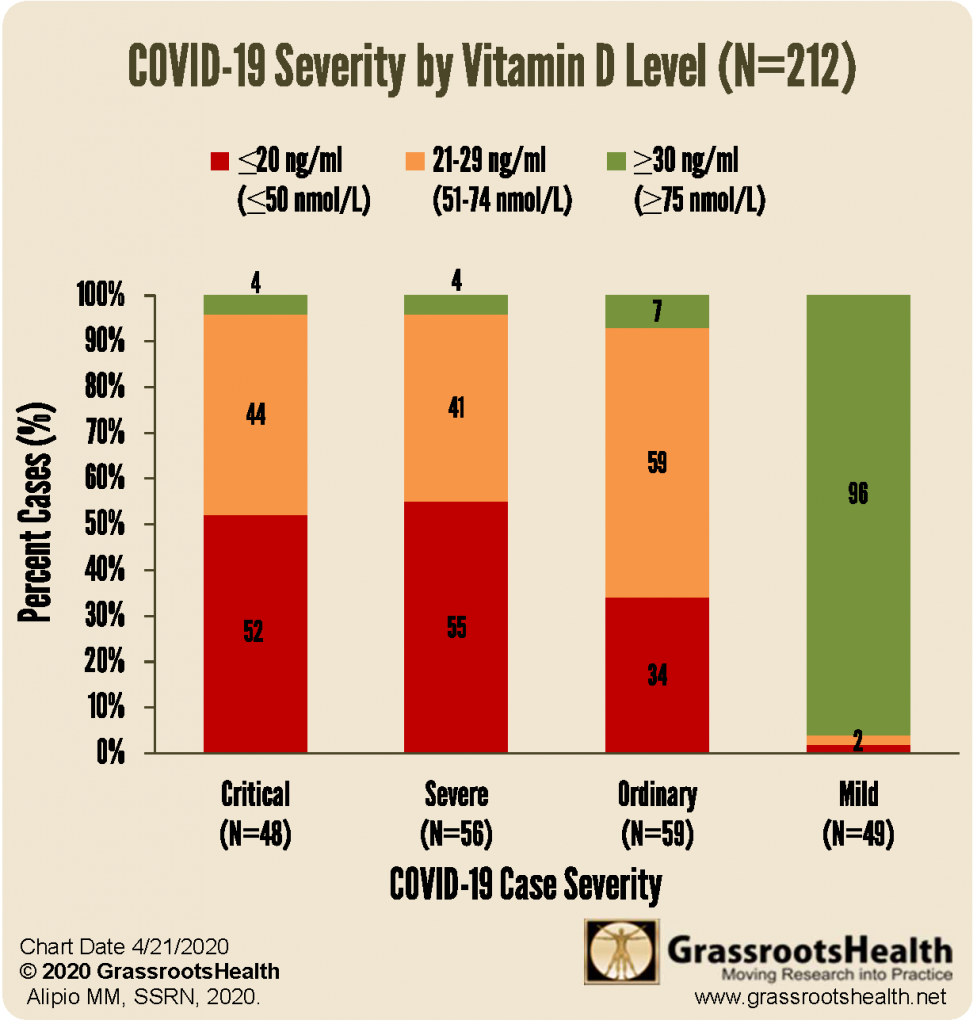 Now, take a look at this second graph that shows the correlation between vitamin D3 and death from COVID-19. If vitamin D levels were below 20 ng/ml the mortality rate was nearly 100% while a level of 34 ng/ml had a 0% mortality rate. Many vitamin D experts recommend trying to achieve a serum 25(OH)D3 level between 50-80 ng/ mL (approx. 145-200 nmol/L), but certainly getting to at least 34 ng/ml may be critical in having the best odds of surviving COVID-19. No one died in the study with a level above 34 ng/ml.
So, how much vitamin D3 should a person take? Most experts recommend a blood test to determine vitamin D levels (available directly to consumers from a variety of sources, e.g., Grassrootshealth.net). In the absence of a blood test, many health experts recommend a dosage of 2,000 to 4,000 IU daily depending upon a person's size and/or sun exposure. Vitamin D3 is extremely safe at these dosage levels.
This latest study on vitamin D and COVID-19 enrolled 76 COVID-19 patients hospitalized in Cordoba, Spain, with symptoms of acute respiratory infection. These patients received the standard care for COVID-19, but were randomized into a vitamin D treatment group (n=50) or a control group (n=26). There were 45 men and 31 women with an average age of 53 years and a variety of comorbidities. Their goal was to determine if early intervention with the 25(OH)D form of vitamin D could improve the outcomes of a COVID-19 infection among hospitalized patients and perhaps reduce the need for them being transferred into an ICU.
The study used a different form of vitamin D than is typically used. When vitamin D3 is ingested or formed in the skin it is taken to the liver and converted to 25-hydroxyvitamin D3. This form, also known as calcifediol, was used in this study as it is thought to be better absorbed and bypasses the need for conversion from vitamin D3 to 25(OH)D3 in the liver.
The results of the study were extremely important, as you can in the chart below, vitamin D significantly reduced the need for admission to the ICU, regardless of existing comorbidities. Only 2% of vitamin D supplemented patients went to the ICU vs. 50% in the control group.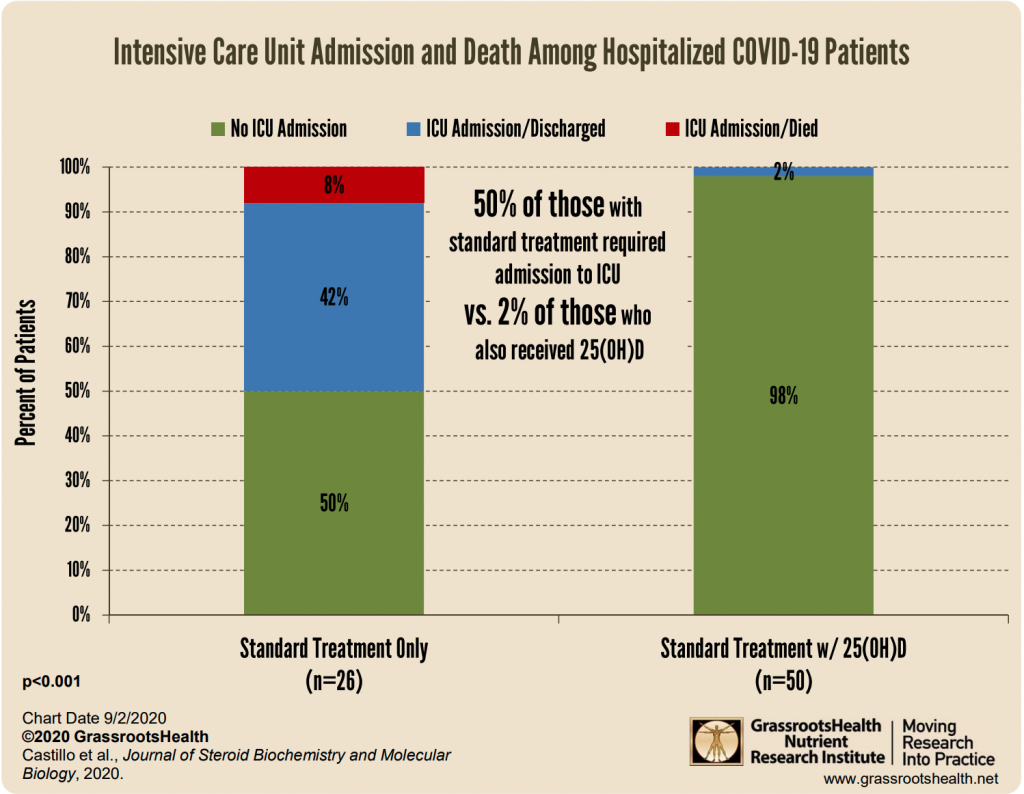 Commentary
If you follow my message, you know that I continually stress that individual nutrients work within our body as part of system. While vitamin D3 exerts many important effects as a single agent against viral infections, so to do other essential nutrients such as vitamin C, zinc, and selenium. In addition, these nutrients work in a very coordinated fashion together in many immune mechanisms. Nonetheless, the data on vitamin D3 against SARS-CoV-2 and COVID-19 clearly indicates the importance of supplementing this nutrient at levels of D3 sufficient to achieve the blood levels of 25(OH)D3 that appear to offer significant benefit in protecting against more severe infection or even death. There is absolutely no downside to doing so, and it could actually save a person's life.
Reference:
Entrenas Castillo M, Entrenas Costa LM, Vaquero Barrios JM, et al. Effect of calcifediol treatment and best available therapy versus best available therapy on intensive care unit admission and mortality among patients hospitalized for COVID-19: A pilot randomized clinical study. J Steroid Biochem Mol Biol. 2020 Oct;203:105751.